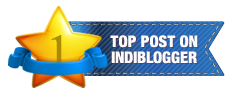 I have never considered myself an optimist and there are rarely things around me which make me believe. Yet when I saw today, Narendra Modi go down and offer his bows and a customary 'pranam' to the Parliament steps I instantly found myself hopeful of a change in the life of our nation, a change for the better, a change for a height never before achieved by our great country though always believed to be capable if it. Modi ji's attitude speaks of our unique culture in which there is conferred a sacred faith and our supreme respect for our work,as it is what gives us our daily bread and recognition in the community of men and also a chance at making a difference in matters that are important. What makes the gesture of Modi ji even more valuable is that never before have we seen such an aestheticism being adopted in a place like Parliament. As far back as I can recall I have always observed and learnt that it is a place where mostly selfish politicians thrive and where there exists no place for sacredness and the purity of thoughts and acts. Though ironically it is one of the most crucial places in our country in dire need of such admirable practices. So the expression shown by Modi ji infuses much hope and expectation since it consigns our nations desires upon a a very relatable foundation. A man being blessed with a great responsibility and high office shows his respect for that place and offers his reverence to it before assuming it. This is as common as any of us getting a job and going to the office after offering our prayers when we start for work. Yet the rarity of the expression lies in the place where it is shown and by the person by whom it is shown. The commonplace nature of such an act counters doubts of arrogance and fear of abuse of power. It establishes the goodness of thoughts of the man in whom the people of our nation have, after a long long time, vested their near unanimous trust.
This discussion would not be complete without sharing what Narendra ji spoke in the BJP meeting where he was declared the leader of the Parliamentary Committee. While delivering his speech, he recalled how Advani ji had broken down while embracing him moments after party MPs endorsed his proposal to name him their leader, setting the stage for the new BJP-led government. Advani ji had said "I have a weakness..,. I am prone to tears. I thank the party and Narendra Modi for doing the kripa of letting me witness an unforgettable moment in our history," as he cried. An emotional Mr Modi responded, "Advani ji said I did him kripa. Please don't use this word. Can a son ever do his mother kripa? The party is my mother, it has done me the favour of giving me an opportunity to serve it." He was choking in tears when he was speaking. It was such an emotional moment. I couldn't help but share his sincerity in dedication for our nation. For a man who turned around the fate of his party, who captured the imagination of the youth and old alike like no other leader, who promises to deliver all our expectations, it was immensely humble to exhibit such demeanour in a national forum.

Many in the large audience of newly elected BJP MPs appeared equally moved. I saw Ravi Shankar Prasad, the law minister in waiting, crying, moved immensely by Modi ji's words. When I saw the whole situation, I thought to myself, this is what we were missing, this is what was lacking earlier. A sense of purpose, a bundle of sentiments beyond the mundaneness of the office to which our leaders are elected, a sense of belongingness to the whole cause of being elected and sent to serve the country in the hallowed hall of the Parliament. I found that sense, those sentiments in abundance today. A leader always carries his men alongwith him. That became evident when Modi ji declared "You see Modi not because Modi's stature is large. You See Modi because party elders hoisted me on their shoulders". Most adorably he recalled their dear beloved leader A.B. Vajpayee ji, and remarked that had he been there, his presence would have made the moment complete.

I am sure his detractors will discount the truth behind his tears and the honesty behind his words. Yet I am not going to criticize such an act since like thousands of my fellow country men I have seen enough betrayal of our aspirations by successive Governments to instantly devote entirely my belief. I am rather going to be skeptical, though optimistic, and wait. Only time will show Modi ji's performance and I have no doubts in hoping that he will best deliver the goods right how they ought to be delivered. If he does, history will hail him through ages as the man who steered India from the storm.
Considering that he spent his childhood in dire poverty where he would keep track of eight trains so that he could sell enough tea and earn for his home and skip classes and again return to school after selling tea in each of those trains, considering that he gave up his family life in pursuance of higher purpose, considering that his family nurtured an aggrieved Muslim boy for one whole year despite their poverty who still remains thankful to Modi ji's family, considering his performance as the undisputed leader in Gujurat for successive terms, I am fully motivated to expect great things from him as a leader especially in areas like poverty eradication, education, women safety, agriculture, foreign relations and economy.
I would like to believe that exciting times are ahead for our country, times which will fulfill immemorial aspirations of our fellow men. If that happens, history will judge Modi ji in the same scales as it did for some of the world's greatest leaders who changed the whole dimensions of their nations integral ingredients.
I believe Modi ji will bring about marvellous changes. I hope mine and beliefs of my fellow countrymen are rewarded.